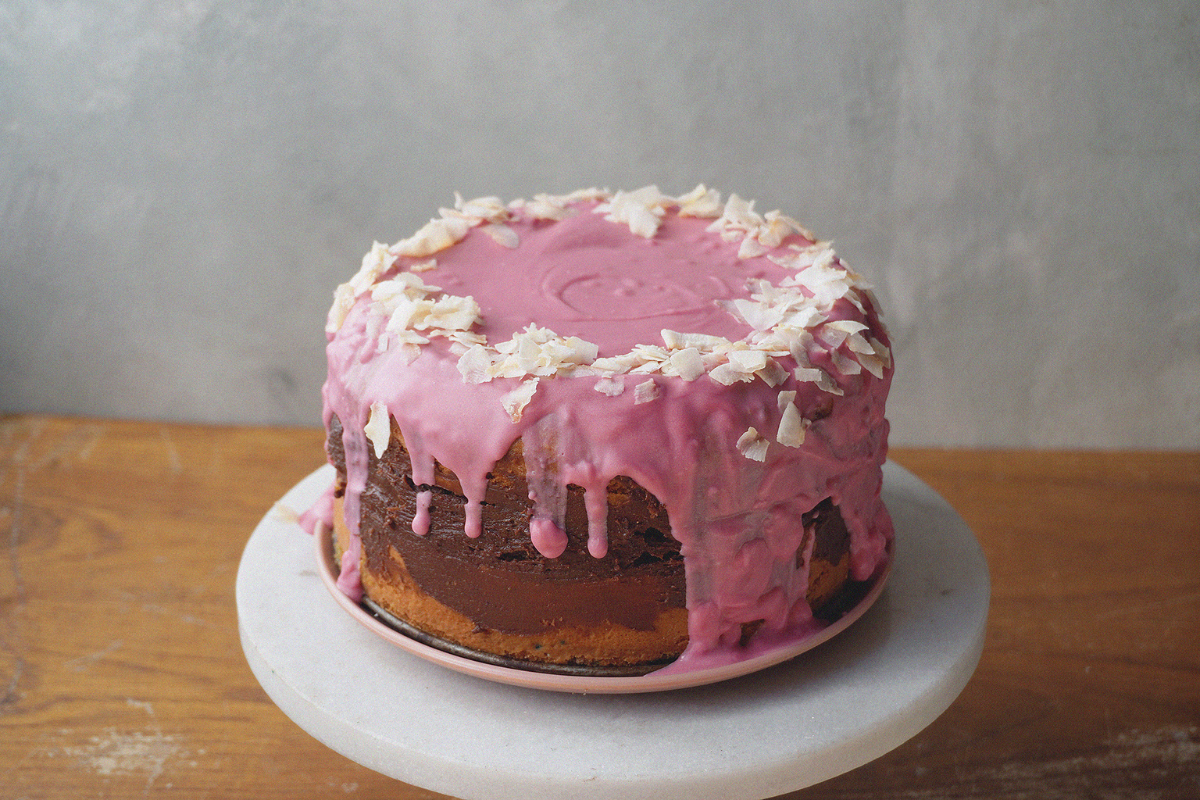 GLUTEN-FREE PINK CAKE
10 servings

You will need:
Eggs 4 + egg whites 2

Low-fat cream cheese 3 tablespoons

Coconut oil 2 tbsp

Almond milk 1/4 cup

Liquid sweetener 6 tbsp

Vanilla extract 1 teaspoon

Bananas 2

SYSTEM LS Whey Protein Concentrate vanilla 2 scoops

Shredded coconut 1/2 cup

Rice flour 1 cup

Baking powder 1 tbsp
For the filling:
Sugar-free %80 dark chocolate 1/2 cup

Sugar-free caramel 1 cup

Strawberries 5
For the topping:
Unsweetened white chocolate 60g

Pink food coloring (or beet juice) 1 tsp

Coconut oil 3 tablespoons
MACROS: (per serving)
Kcal 195

Carbs 17g

Protein 7g

Fat 11g
Recipe:
In a blender, combine the eggs, egg whites, cream cheese, melted coconut oil, almond milk, liquid sweetener, vanilla extract, bananas, vanilla protein, shredded coconut, rice flour, and baking powder.
Blend well for about 2 minutes until everything is completely integrated.
Preheat the oven to 180 degrees Celsius and pour the mixture into a 16 cm cake pan previously lined with greaseproof paper.
Bake in the oven at 180 degrees Celsius for about 1 hour or until a knife inserted in the center comes out dry. Let it cool in the oven with the door slightly ajar.

Once the cake is cold, cut it in half and fill with the sugar-free caramel mixture mixed with melted dark chocolate and sliced strawberries. Close with the other half of the cake and press to make it even.

Melt the white chocolate with the tablespoons of coconut oil and add the pink food coloring (or beet juice) to color the chocolate. Mix well and pour the frosting over the cake.

Decorate the top with coconut flakes and place it in the refrigerator until ready to eat.