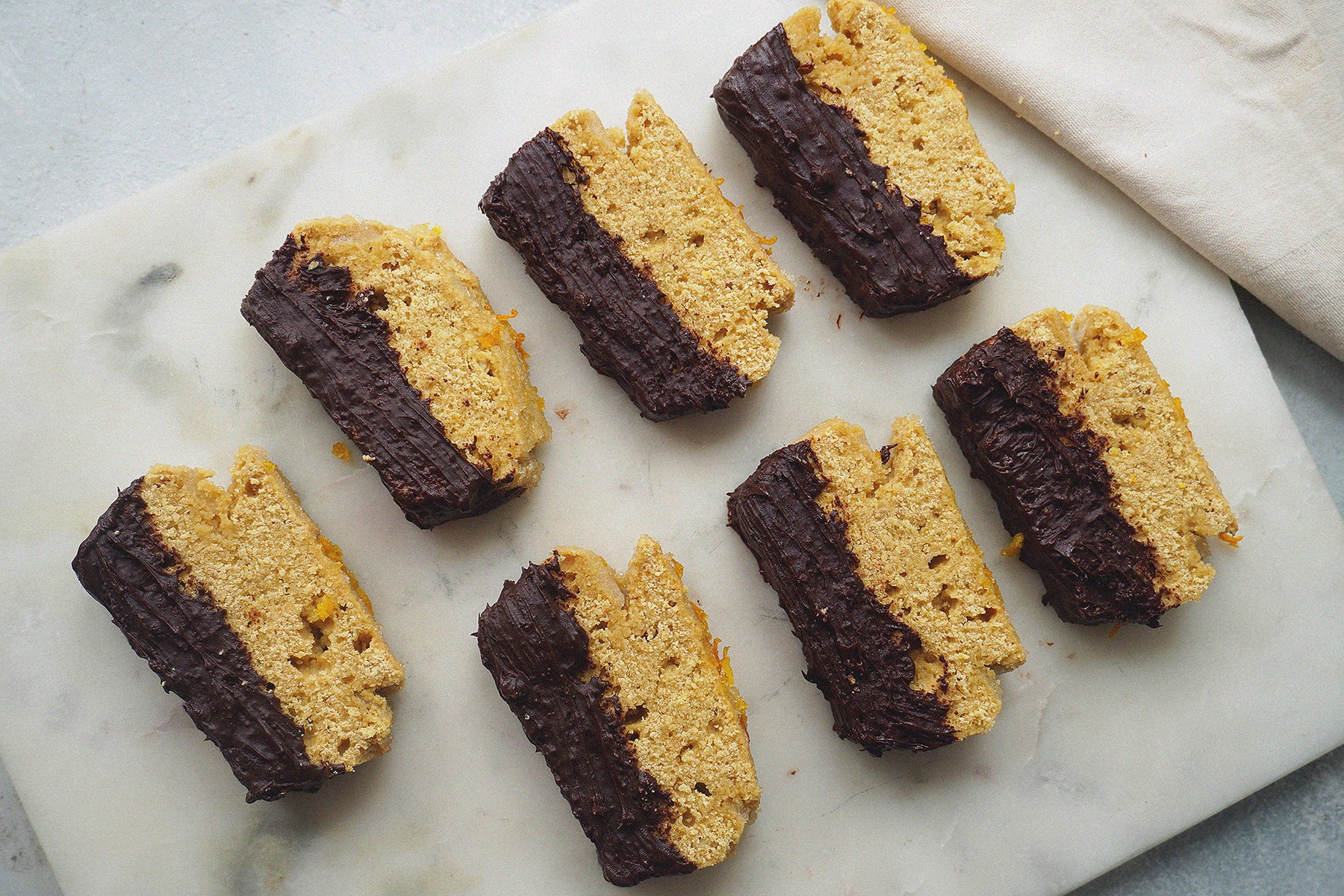 ORANGE AND CHOCOLATE MORSELS
12 servings
Ingredients:
4 large eggs
1/3 cup virgin olive oil
5 tablespoons sweetener (e.g., honey or maple syrup)
1/4 cup coconut sugar
Zest of 1 orange
Juice of 1 orange
1 cup oat flour
2 scoops of SYSTEM LS Nourish Shake vanilla protein 
1 teaspoon baking powder
Toppings: 
1/2 cup 80% chocolate, melted
Macros (Per Serving):
Calories: 155
Carbohydrates: 13g
Protein: 9g
Fat: 6g
Recipe:
Preheat your oven to 180 degrees Celsius (350 degrees Fahrenheit). Line a rectangular baking pan (approximately 20 x 10 cm) with greaseproof paper.

In a mixing bowl, combine the following wet ingredients: eggs, virgin olive oil, sweetener, coconut sugar, orange zest, and orange juice. Mix well.

Add the oat flour, vanilla whey protein, and baking powder to the wet mixture. Stir everything thoroughly until well combined.

Pour the prepared batter into the lined baking pan.

Bake in the preheated oven for about 40 minutes or until the top is golden brown and a toothpick inserted into the center comes out clean.

Allow the baked mixture to cool in the pan.

Once cooled, remove from the pan and cut into thin slices.

Melt the 80% chocolate and dip half of the morsels into the melted chocolate. Place them on a tray lined with greaseproof paper.

Refrigerate the chocolate-coated morsels for about an hour to set.

Enjoy your delicious orange and chocolate morsels!