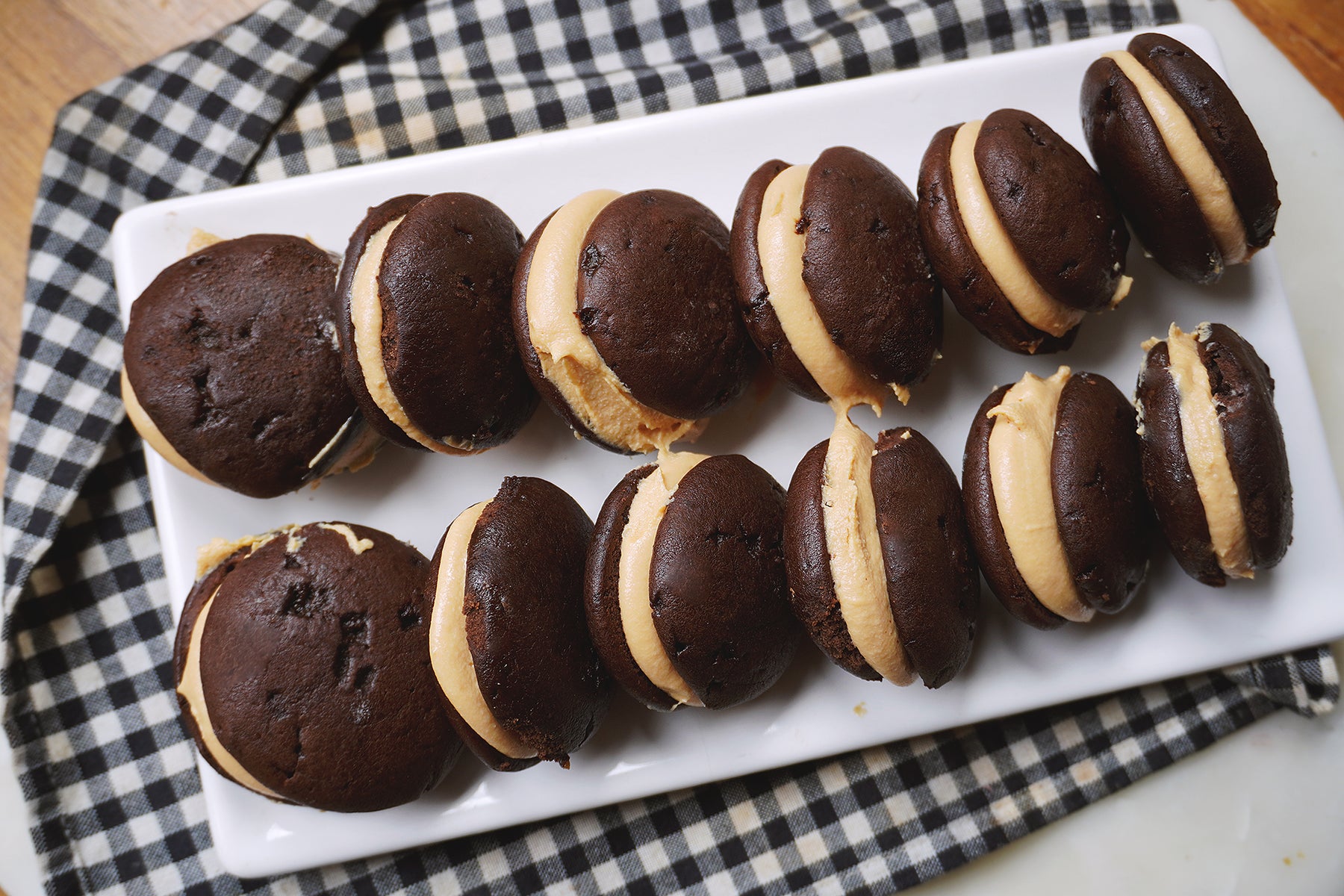 PROTEIN WHOOPIES
16 servings
You will need:
3 tablespoons of coconut oil
150g of brown sugar
1 egg
1 teaspoon of vanilla extract
1 cup of almond flour
1/2 cup of rice flour
4 scoops of SYSTEM LS Whey Protein Concentrate vanilla protein
1/2 cup of bitter cocoa powder
1 tablespoon of baking powder
1 pinch of salt
1 cup of skim milk
Filling:
1/3 cup of light cream cheese
3 scoops of sugar-free dulce de leche
2 scoops of SYSTEM LS Nourish Shake vanilla protein
MACROS: (per serving)
Calories: 165
Carbs: 15g
Protein: 8g
Fat: 8g
Recipe:
In a bowl, whisk together coconut oil and the brown sugar until smooth.
Add the egg, milk, and vanilla extract. Continue beating until well blended.
Add almond flour, rice flour, cocoa powder, vanilla protein, baking powder, and a pinch of salt. Mix with a spatula until well combined.
Fill a piping bag with the mixture and pipe buttons of about 2 cm in diameter onto a baking sheet lined with parchment paper. Place in the freezer for 2 hours to freeze.
Preheat the oven to 170 degrees Celsius. Transfer the frozen buttons directly from the freezer to the preheated oven and bake for 12 minutes. Let them cool.
For the filling, beat together the light cream cheese, sugar-free dulce de leche, and vanilla whey protein until well combined. Transfer the filling into a piping bag and refrigerate for 1 hour.
Fill the whoopie pie shells with the prepared filling using a piping bag. Sandwich two shells together to form each whoopie pie. Refrigerate until ready to eat. Enjoy!